Well as regular visitors are aware, I really enjoy my pike fishing, but the zander has more of an edge for me and can be a challenge, which I enjoy, and thought it would be fitting to write purely about my recent zander exploits, as my normal pike sessions I write for the diary this time of year have been rather unsuccessful recently.
My last zander from the drains came to me back in December 2015, when I had a stunner from the twenty foot drain. Despite regular trips to the fenland rivers and drains, each year from September to February, I have been very unsuccessful in getting this now rather elusive fish. I am still trying to find out why.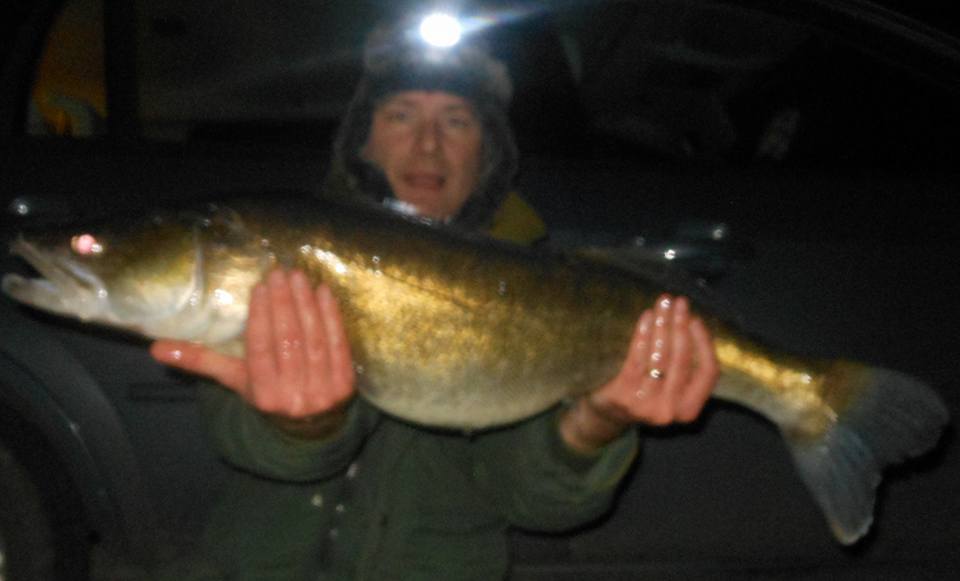 However, this year, I think it might actually be starting to look up for the fenland zander.
Back in August, I bumped into an angler, who was lure fishing and was catching loads of juvenile zeds from the Ely Ouse in the town centre.
Not long after that, a friend of mine took his nephew out, and he was fortunate to land a small zed on dead bait, from the same area. I wanted a piece of the action, but was unfortunate, I just had a small pike.
I have also heard various reports about Zander showing up in the middle level drain more frequently aswell.
Due to being unsuccessful on various occasions, I decided to go back to the drawing board and review my methods, using the internet and experimenting with different setups.
After trying various methods, I found one I was happy with.
I tried it out Roswell Pits a well known zander water, and was successful in landing two zeds and one pike on the same night, back in October. As you can imagine, I was very happy.
I returned a couple of weeks later, and had yet another zander and a pike.
Obviously my new methods had worked, so I will explain what adjustments I have made below. Nothing complicated really. All I have done, is fine down my usual pike and catfish rigs.
Line 
I always tend to use 15ib mono, not a big fan of braid for zander fishing, due to it not being able to stretch, and can also cause some resistance. I also have the rods pointing at an angle, in a dead straight line towards the water, again to minimise resistance.
Terminal Tackle
I use a sliding ledger setup using Fox RAGE Predator run rings and buffer beads, rigged up with Size 10 ten semi barbed trace connected to a Fox RAGE Kwik change trace link, so I can change traces with ease, if needed. I also modify the run rings, by adding a tiny small feeder clip, so I can change my leads to different sizes with ease.
Bait
I use small dead baits. In this case, I was using bleak and roach.
Bite Detection
I use the Fox  swinger arm system with the sliding weight set as close to the bank stick clamp as possible, to minimise resistance, I also adjust the bait runner to the lowest setting possible, i.e. enough for the ledger weight to drop to the floor without any assistance, and in a smooth, timely process. Sounds technical I know, but works for me.
Happy with the new methods, I wanted to put these into use on a proper fen drain, but again failed!
I think on that particular occasion, the amount of silver fish in the area probably gave the zander more of a better option, then my dead baits on the bottom. I think if I was using live baits, the results would of been different.
After scratching my head and trawling the internet, I finally found a couple of venues which has been consistent in producing zander recently.
These were the River Nene and Well Creek.
So I decided to make the drive after work one evening in December, to Well Creek.
On arrival, the river looked perfect, and I was feeling positive.
I cast the rods out. In the first hour I was there, I had a couple of dropped takes. I wound the baits in, and could see those classic puncture marks. I am convinced these were schoolie zander passing through and chasing the silver fish, as could hear fish scattering on the surface in the darkness.
With hopes high, I made a slight tweak to the bait runner, and within minutes I had another take, and this was a proper one toner. I wound down and struck into the fish. I hooked into and could feel the characteristic head shake of a zed, but without warning the fish dropped off. Gutted, I checked the trace, and replaced it with a new one. Size 10 again.
It went quite for an hour or so, then the right hand rod beeped a couple of times, then screamed off. I wound down and struck into the fish, it was on. The fish was keeping low, and was shaking it's head, I could feel my heart pumping as had a feeling it was my target species. It then broke the surface. My headlight caught the fish, and then those eyes. I knew it was a zed. At the point of cheering, I kept calm and landed the fish. Once landed I cheered. Sad I know, but it has been a long time!
I admired the fish, took a photo and let her go. unfortunately I forget to weigh it, but at a guess I reckon it was between 5 and 7ib.
After a brew, I recast and sat under the umbrella reminiscing my success, then the rod screamed off again. Hoping it was another zander, but it was lovely little pike.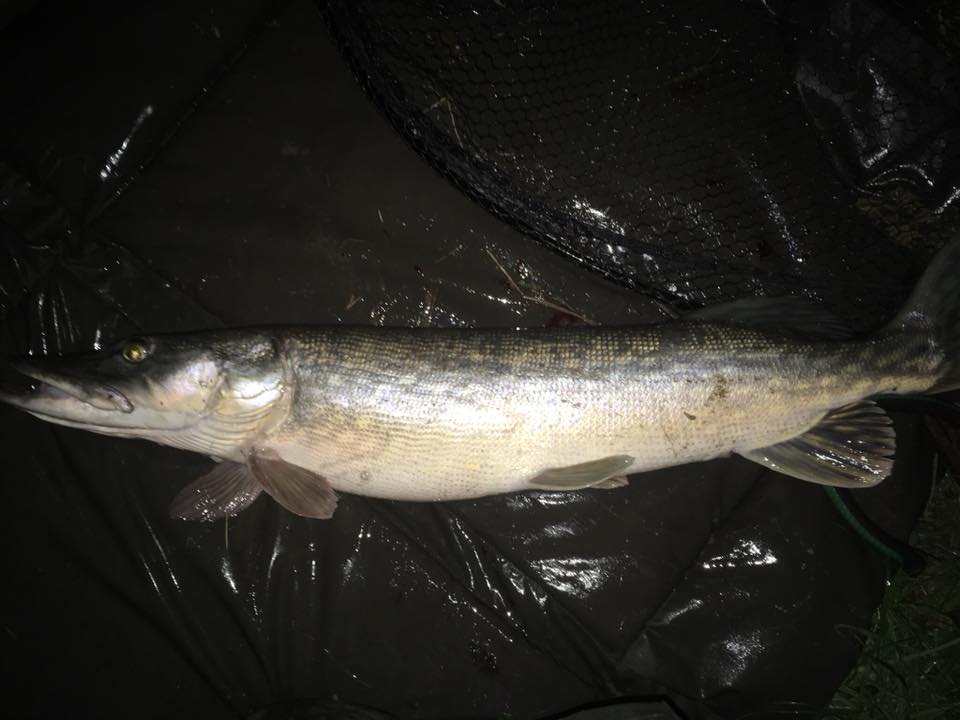 After releasing the pike. I packed up the gear and headed home, as didn't want to get snowed in. I reckon if I stayed longer, I would of caught a couple more. I am definitely going to keep trying this venue for the zeds, hoping for that specimen one day, watch this space!
What about the fenland zander now?
I was happy with what I had, but it took a lot of work and time to find them.
It just proves they are still out there in the fens, but not in the numbers they once were. We just need to work that little bit harder to find them.
However, as for the Ely Ouse, it was good to see the high number of juveniles come out this year, so it could again, produce those big fish in the future. I certainly will keep at it!
Anyway Tight Lines and a Happy New Year!